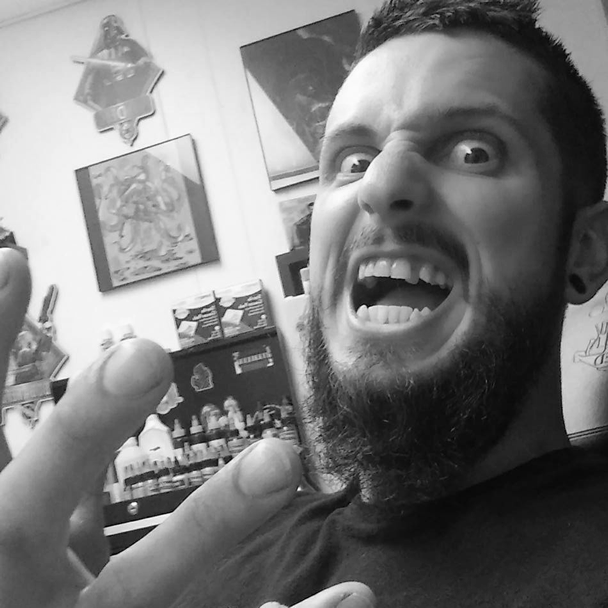 Shaun Friday
This is My Story

A little about myself and my pursuit of art through the years. It all started with my love of books and fictional stories. As a kid I would try to recreate the characters and what I imagined they may look. The early 90's era cartoons were also a mayor influence.

I spent my childhood living between my moms (out in the country) and my dads (in flint) this gave me a great perspective of two majorly different ways of life. I was always the shy quiet kid in school, constantly immersed in a drawing or book. At the time I hated that I was so shy but later in life I became grateful for all of the observations I made at such a young age. It gave me an outside perspective on life and has helped me to see the world in a different way.

There was a long period in my late teens early twenties where art got put on the back burner. Looking back I'd say there was about a four year gap where I didn't pick up a pencil for the sake of drawing. Guess I was just carried away with growing up. Moving to Lansing is what rekindled the fire. I got a job at McDonald's working third shift and had no vehicle. The only option was to ride the local bus back and forth across town. Those two hour bus rides forced me to entertain myself so I blew the dust off of my drawing pads and pencils.

Fast forward a couple of years. I had a son (Ethan) on the way and wanted to better my situation. I enrolled in classes with an online art college. I learned a great deal in my time working towards my associates degree in graphic design. My most valued classes were learning to navigate and utilize the adobe creative suite programs, color theory as well as my many drawing classes, two of which were taught by a man who drew for DC comics for twenty plus years. His name escapes me but I learned so much from that man. Those classes taught me more about the style that I grew up teaching myself. This fed into my already abundant love for new school, full color and just all around cartoon style art.

Another jump a few years into the future and I found myself working yet another job that I didn't enjoy. Luckily I had a friend who was an established tattoo artist in the area. While hanging out with him and doodling one day he planted the seed in my head that I should take up tattooing. I immediately went home and drained my bank account online buying tattoo equipment. After roughly six months of practicing and asking so many questions it would make your head spin I was invited into a shop to apprentice. I spent every free moment studying and practicing my craft.

This little glimpse into my life brings us to right now. I am at a great shop with great people and couldn't be happier with how everything is going. I've seen more growth and drive from myself towards tattooing then I've collectively seen my entire life towards any venture. I finally feel like I have found what I am meant to do in life and the added bonus is that I love it. "Chose a job you live and you will never have to work a day in your life" Confucius.